1. I'm new to this community. Where should I start?
You're in the right place! Welcome. Work your way through the items in our getting started checklist.
2. What is the SafetyCulture Community?
This is a space for you to share your expertise, feel inspired, and keep getting better. 
3. Why a SafetyCulture Community? 
We want you to become even more successful with SafetyCulture. Seize this unique opportunity to connect with peers in the improvement space to validate ideas, share knowledge and expertise, and give guidance. Search for answers, post questions, and start discussions. You might even gain some well-deserved recognition and kudos for doing so!  
4. Who is the SafetyCulture Community for?
Everyone in this community shares one thing in common; regardless of your location, industry, or job title, you're all using SafetyCulture to help your business improve—and you can all benefit from helping each other improve. 
5. How do I create a post?
Remember to use the search first to see if your questions are already being discussed or if there is already a solution.
If there's no relevant post yet, feel free to create a new post. For this, just click the + Create post button next to your profile picture at the top of the page. If you're using a mobile device, tap the 🖋️ (pen) icon at the lower-right corner of your screen.
Choose what type of post you're going to create. Decide if your post is a question, a conversation, or an idea.
Create a short but descriptive title. It should summarize what your post is about. This way, other members can see directly if they are able to help you.
Describe what your post is about. Describe your question, conversation, or idea with as much detail as possible. Other members can help you better when they know what you are trying to do (and where you do not get any further). 
Choose the relevant category to post your question/conversation.
You can also add images and videos to your question.
6. What do the different types of posts (Question, Conversation, Idea) mean?
When you create a new post, you'll find three options available for your post:

Question
When you need a solution to your question or problem.
Conversation
When you want to share something and involve the community in the discussion.
Idea
When you have an idea or suggestion for product improvement.
7. How do I edit or delete my own posts and replies?
Community members cannot delete their own posts, edit their post titles, or edit their replies. If you need to delete your posts, change your posts' titles, or edit your replies, please email us at community@safetyculture.com.
If you made a mistake while writing your post, or if you simply want to add more information, then you can do this by following these steps:
Go to the post you want to change.
Click or tap the more (⋯) menu at the lower-right of the post.
Select Edit:​​​​

8. How do I change my username?
Your username is the name that other members see. Community members cannot edit their own usernames. If you need to change it, please email us at community@safetyculture.com.
9. How do I write private messages to other community members?
You can send private messages to other members in two ways.
Hover over their profile picture and click the mail icon on the upper-right.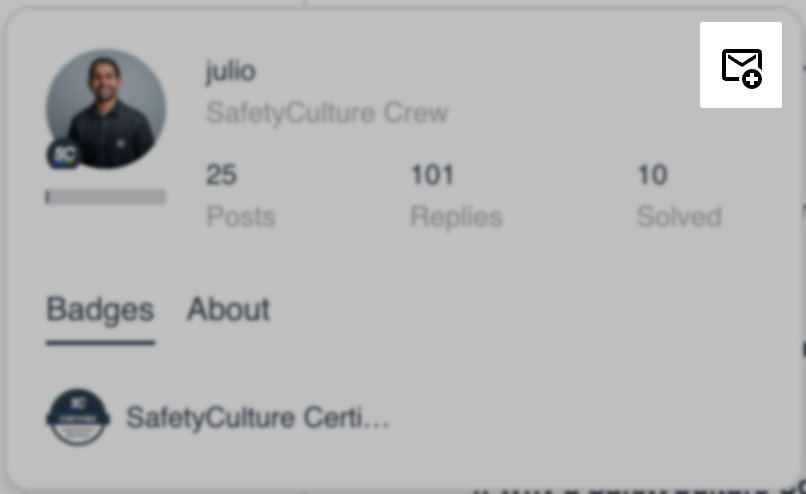 Or click their profile picture and click Send message.

10. How do I delete my SafetyCulture Community account?
Community members cannot delete their own accounts. If you need to delete your community account, please email us at community@safetyculture.com.
Please note that your SafetyCulture Community account is separate from your account for the SafetyCulture app. If you want to delete your account for the SafetyCulture app, please contact our Support Team for assistance.
11. How do I get notified about activities in categories and posts I'm interested in?
When you create a post, you automatically subscribe to get notified of replies.
If you're interested in a post that's created by someone else, you can receive notifications by clicking Subscribe at the bottom of the post. If you're using a mobile device, tap the ⭐️ (star) icon to subscribe.

If you want to receive notifications for each new post in a category, you can click Subscribe on the right-hand side of the category page.

To unsubscribe from a category or post, follow the same steps you took to subscribe and just click Unsubscribe.
12. Should I ask the community, search in the Help Center, or contact SafetyCulture Support?
If you need help with your SafetyCulture experience, you might wonder which channel is the best to ask for support.
To help you consider where to ask for help, you can refer to the following table based on the urgency and depth of your question: